Every project is a dream and starts from a dream!
The origins of Dragon Dreaming comes from the Australian Aboriginal philosophy which unites three equally important elements in project building:
Personal growth
Service to the Earth
Community Building
Dragon Draming adopts a living systems approach to creating successful projects based on the three principles above. This method was first developed by John Croft and Vivienne Elanta, and draws on social and environmental activism, the new physics, earth science, living systems and the ancient sustainable wisdom of indigenous cultures of the Australian Aborigines. Dragon Dreaming is based on freeing our collective intelligence, creativity, cooperation
and the sleeping power within each one of us and which is present in our communities.
How can this work in schools and in youth work?
The design process follows the order of Dreaming, Planning, Doing and Celebrating and can be seen in the Circle below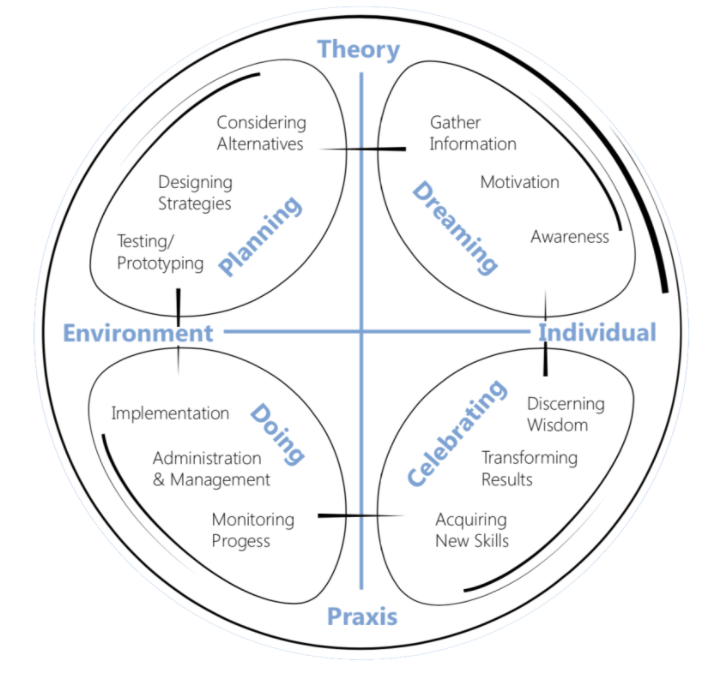 D R E A M I N G
This is the stage of maximising creativity – the "Aha moments" of new discovery. Every project starts with the dream of a single person. However when "my project" becomes "our project" then everyone can identify equally with it and will commit to it 100%.
P L A N N I N G
At this stage the team will consider alternatives, develop strategies and test in different ways. This means we use our " collective intelligence" to set the aims and objectives, each one of us will get to "say what they think".
D O I N G
A lot of energy is needed at this stage of a project! The aim of Dragon Dreaming is that the team organizes itself in a non-hierarchical project implementation in which no member of the team invests more time and energy than feels good to them.
C E L E B R A T I N G
Every project is a dream come true! As we come to realise our dreams, it will be the right time for celebration and we must find the time for this and not forget this important stage in our creative process of Dragon Dreaming. When we celebrate (and dream), we recharge our creative energy for the next project!
Would you like to learn more about Dragon Dreaming? Find the time to watch the video and explore the resources we used to build this page here. The following are the resources we used:
Browse through the publication below and learn more about Dragon Dreaming! 🙂